GLENN D. BELLITTO, COUNCILMAN (POSTHUMOUSLY)
Councilman Bellitto was a beloved and enthusiastic supporter of our committee and all of the wonderful events we would hold as part of Columbus Day Weekend each year.  Glenn was a selfless servant to our community, our town, and our villages.  He is immensely missed by so many and the impact he had on our town as a Councilperson in the Town of Eastchester and a Trustee of the Bronxville Village Board of Trustees continue to keep our town a wonderful place to live.
Because of his example, his love of community, and his years of dedication and commitment to the Town of Eastchester, we honor Glenn Bellitto this year posthumously and will welcome his family and relatives to share in this honor as his life and memory will serve as our Grand Marshall of the 2021 Eastchester Columbus Day Parade.
FOREVER IN OUR HEARTS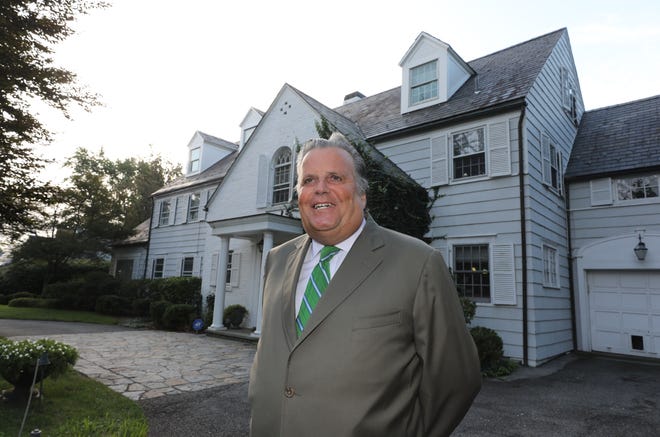 Education:
M.B.A. – Harvard Business School.
B.A. in Government – Harvard College.
Archbishop Stepinac High School, White Plains, NY.
Experience:
Financial Manager at a Not-for-Profit.
Former Deputy Mayor of the Village of Bronxville.
Former Member of the Bronxville Zoning Board of Appeals.
Former Bronxville Co-op Board President.
Affiliations:
Eastchester Italian-American Citizens Club.
Tuckahoe-Eastchester Lion's Club.
Knights of Columbus.
Order of Sons of Italy.
Eastchester Irish American Social Club.
Former Member of the Evaluation Committee – The Community Fund of Bronxville, Eastchester and Tuckahoe.
Personal:
Town of Eastchester Resident for 22 years.
Born and Raised in Yonkers.
Married Kyle Moran in 1990; Children Dale and Gage
2021 David R. DiRubba Community Service Award
 Eastchester Volunteer Ambulance Corps. (E.V.A.C.)
The Eastchester Volunteer Ambulance Corps, Inc. (EVAC) was founded in 1952 and was the first volunteer ambulance corps to be established in Westchester County. EVAC began its operation in March of 1952, responding to just 90 calls for service the entire year. EVAC was originally stationed out of the North End Fire House on Wilmot Road and on October 21st, 1990 EVAC officially opened its standalone headquarters located at 257 Main Street in Eastchester. For the past 70 years, EVAC has provided 24-hour emergency medical care to the residents of Eastchester, Bronxville and Tuckahoe. EVAC currently operates four ambulances, one Paramedic first response vehicle and one Officer (Supervisor) vehicle to ensure proper coverage and supervision is maintained for our district. Our continued mission is to provide state of the art, high quality, pre-hospital emergency medical care, while maintaining a primarily volunteer-based organization. EVAC operates as a combination department, composed of volunteer as well as supplemental per diem New York State certified EMTs, Paramedics, drivers and support staff. As of September 29th, EVAC has responded to over 2,100 calls within our community and we are projected to respond to  at least 2,800 for the year based off of the current trajectory. Whether we are battling the effects of COVID-19 or overcoming the obstacles of Hurricane Ida, EVAC proudly stands at the ready to serve Eastchester, Bronxville, and Tuckahoe at a moment's notice.
CHIEF
NICK LOUROS, EMT-B
Chief Louros joined Eastchester EMS in 2005 and became a NYS EMT in 2006. Fast forward 15 years and numerous officer positions later and Nick is now Chief of the department. In addition to serving as an EMT for Eastchester EMS, Louros has worked for OVAC, Croton VAC, and Dobbs Ferry VAC. Chief Louros's favorite part of Eastchester EMS is seeing new members join as total strangers and watching them create a special bond with the membership. Through helping the community and working in high stress situations, members begin to form a familial relationship that stretches far outside the confines of Eastchester EMS.
PRESIDENT
JUDE VALERIOTI, EMT-P
President Valerioti joined Eastchester EMS in 1977 and became a NYS EMT in 1978. Valerioti served as Captain from 1984 to 1986 and became a NYS Paramedic in 1985. In addition to dedicating the better portion of his professional career to Eastchester EMS, Valerioti also has worked as a Paramedic for Abbey Richmond Ambulance in White Plains from 1983 to 1987 as well as Empress EMS in Yonkers from 1988 to 1997. Valerioti earned the high honor of being awarded Paramedic of the Year by Westchester County REMAC in 1996 and in the same year took on the title of Vice President of Eastchester EMS as well as the first Paramedic of Eastchester EMS. Valerioti has held the title of President from 2003-2013, 2013-2015, 2015-Present.
DEPUTY CHIEF
MAX GOLDBERG
Deputy Chief Goldberg joined Eastchester EMS in 2008 and became a NYS EMT in 2009. Deputy Chief Goldberg served as Lieutenant in 2014 and has served as our PIO since 2013. In addition to working at Eastchester EMS, Goldberg has worked at the Town of Mamaroneck Ambulance District and Dobbs Ferry VAC. Goldberg's favorite thing about Eastchester EMS is how we continually recruit volunteer members to give back to the community and over time we get to see the members grow into amazing pillars of society.
LIEUTENANT
RICHARD PENA
Lieutenant Richard Joined Eastchester EMS in 2017 and became a NYS EMT in 2017 as well. Lieutenant Pena's favorite thing about Eastchester EMS is that since the first time he walked through the double doors, he was immediately welcomed as part of a new family. Eastchester EMS has helped him grow tremendously both as a person and a medical provider. Pena also believes that friendships he has made at Eastchester EMS go far beyond the end of a shift.
TREASURER
ANSON AUGUSTINE, MS, MBA, CPA
Anson J. Augustine has been a member of EVAC since September 1993, when he joined through the Senior Service Program at Iona Preparatory School. Anson has previously held the positions of Vice President of Administration and Administrative Lieutenant. Anson has over 17 years of experience in accounting and is currently a Partner at Marcum LLP, where he has worked for the past 12 years. Anson focuses his efforts within the Firm's SEC Practice Group and works closely with publicly-traded and privately-held companies in numerous industries, as well as consulting on complex accounting and reporting issues. Anson also assists with the management of the Firm's New York City audit practice, and serves as a member of the Firm's Training and Development Committee, where he helps develop and advance the careers of professional staff through recruiting, mentoring and serving as the lead instructor for a variety of continuing education seminars. Anson is currently a member of the American Institute of Certified Public Accountants (AICPA) and the New York State Society of Certified Public Accountants (NYSSCPA), where he previously served on the Human Resources Committee. Anson holds a Master of Business Administration (Finance and Information Systems) from Fordham University, a Master of Science (Human Resources) from Hofstra University and a Bachelor of Science (Public Accounting) from Fordham University and is a Certified Public Accountant (NY).
2021 Monsignor Anthony Maltese Humanitarian
Vito Catania
COMMUNITY SERVICE, CIVIC AND VOLUNTEER ACTIVITIES
Trustee – Eastchester Union Free School District - Elected to seven terms as School Board Trustee.
Served as President, Vice President and Secretary - several times in each position. Chaired Long Term
Planning, Labor Relations and Education Committees.
President – Garibaldi Lodge – Order Sons of Italy in America – Eastchester, NY
President – Eastchester-Tuckahoe Columbus Day Committee
Treasurer – Board of Managers – The Tower Club of Westchester Condominium, Tuckahoe, NY
Active in community youth baseball and serve as chaperone on annual Eastchester HS Varsity Baseball spring training trip to West Virginia (9 years)